In 1995, antiquarian bookseller Sergio Malavasi bet on the potential of the web and decided to launch an ambitious project: to collect all the publications of all times and all countries and offer them online. The same ideal that more than 300 years earlier had driven the abbot and bibliophile Francesco Marucelli: to create Mare Magnum Omnium Materiarum, a universal bibliography by subject in 111 folio volumes, which unfortunately was never published. 
Today Maremagnum.com is the most important Italian platform for the online sale of antique, second-hand, out-of-print and new books. 
Mare Magnum Omnium Materiarum, 1701
The volume is kept in the Marucelliana Library in Florence and can be consulted online.
BROWSE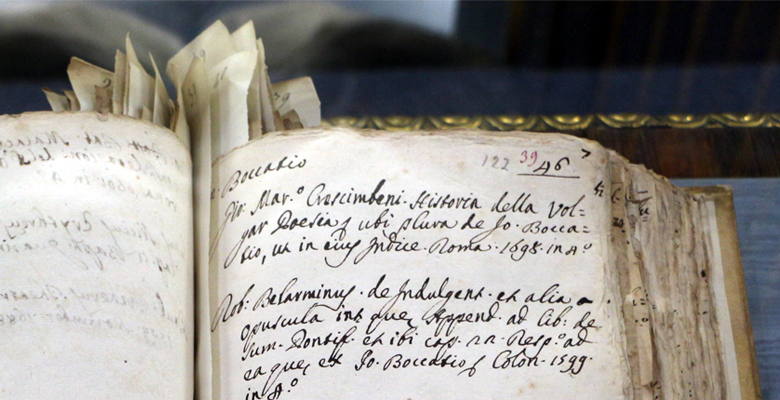 Our story
At the beginning, there were 6 participating bookshops; the catalogues were searchable but we could not yet speak of e-commerce as we understand it today: anyone interested in buying a book had to pick up the phone and call!
In the years that followed, Maremagnum.com grew in importance, also thanks to the decision to offer only the catalogues of professional bookshops, starting with those associated with ILAB/LILA, the International League of Antiquarian Booksellers, synonymous with quality and guarantee.
The desire to share knowledge about the world of antique and second-hand books is unwavering, thanks also to the Maremagnum Librorum, the association directed by Sergio Malavasi and which for 27 years has been organising Vecchi Libri in Piazza in Milan, Europe's largest open-air exhibition-market for antique, second-hand and out-of-print books.
From 1995 to this day
Between 1995 and 2001 Maremagnum organised exhibitions of antique books in Milan, at Palazzo della Ragione and Castello Sforzesco.
In 2004, Marelibrorum.com, the historical reference archive of bibliographic records put online on Maremagnum.
In 2007, Marelibri.com, a meta-engine for searching antique and used books worldwide, organising itself in a consortium with dedicated e-commerce platforms from all over Europe. 
In 2008 Maremagnum awards the Honorary Bookseller Prize to Umberto Eco.
In 2013 it organised the first edition of the International Used Book Fair, renewed for two editions. 
Today Maremagnum.com has more than 600 bookshops specialising in antiquarian and second-hand books and 100 publishers, offering a total of around 13 million titles.
I venditori
I nostri venditori sono circa 700 e comprendono Librerie dell'Antico, dell'Usato, di Modernariato e anche piccole e medie Case Editrici.
I venditori