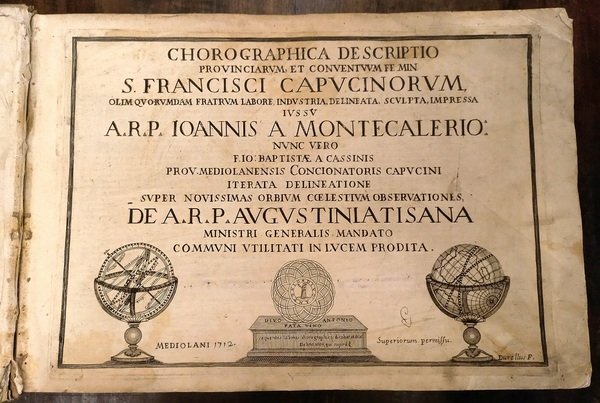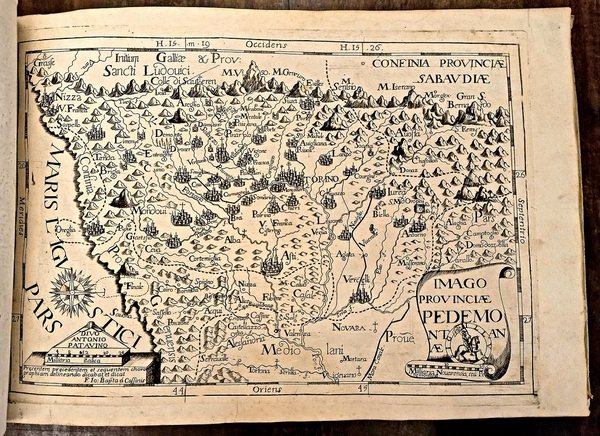 Book
Chorographica Descriptio provinciarum et conventum FF. Min. S. Francisci Capucinorum.
Ex Typographia Josephi Pandulphi Malatestae, 1712
unavailable
Pregliasco Libreria Antiquaria (Torino, Italy)
Ask for more info
Shipping costs
Standard
4,70€
3-6 business days
Express
8,90€
1-2 business days
Economy-no tracking
2,90€
10-30 business days
Bookshop delivery terms: delivery time is estimated according to the shipping time of the bookshop and the courier. In case of customs detention, delivery delays may occur. Any customs duties are charged to the recipient. For more info.
Payment methods
PayPal

Credit card

Bank transfer
Album in-4 oblungo, pp. (2), 9, (2); ff 62; grande titolo inciso con un globo terrestre ed una sfera armillare, una grande carta dell'Europa (mm 500x670) e 61 carte geografiche. Legatura coeva piena pergamena rigida e dorso a nervi. Le mappe mostrano tutti i conventi cappuccini mediante una città murata, il cui campanile è sormontato da una croce o altro simbolo in base all'importanza della sede; sono arricchite da cartigli con mascheroni, putti, strumenti, cornucopie, simboli, oltre che navi nel mare. Ogni tavola è preceduta da un foglio entro larga bordura ornamentale, esplicativo della tipologia e del numero di sedi e di frati presenti in quel territorio.
Le 62 tavole sono così suddivise: 1 grande "Tabula Universalis" che comprende l'Europa, l'Asia occidentale e l'Africa settentrionale, ovvero tutto l'Impero cappuccinesco; la "Tabula totius hispaniae" e sei carte delle province spagnole; la "Tabula totius Galliae" e 11 carte delle province francesi; la "Tabula totius Italiae" e 25 carte delle province italiane; la "Tabula totius Germaniae" (che comprende i territori dei Paesi Bassi, Austria) e 14 carte delle province tedesche ed infine la Provincia Poloniae.
Il Ministro Generale dell'Ordine, Giovanni da Moncalieri (Ivi, 1579-1655, imposto dal Papa Barberini) fu il committente di questo notevole atlante tematico su cui un gruppo di frati iniziò a lavorare nel 1632 quando si decise di diffondere un'opera che evidenziasse la distribuzione delle sedi cappuccine e fosse un pratico sussidio all'organizzazione delle visite pastorali. I disegni preparatori furono di Bernardino da Bordeaux, Ludovico da Mondovì e Massimino da Gauchen, mentre le incisioni si devono a un frate che si firma Gallo.
L'edizione definitiva, la più ricca di carte, di questo inusuale atlante edito sin dal 1643 a Roma con 46 mappe (23 per l'Italia, 5 per la Spagna, 11 sulla Francia e 7 per la Germania), ristampato nel 1646, nel 1649 ed accresciuto fino a 51 tavole, compresa la grande carta dell'Europa nel 1654. Mezzo secolo più tardi l'impresa venne portata a termine da G.Battista da Montecassino con questa edizione milanese.
Bell'esemplare, in genere fresco (il titolo con lievi aloni) e con le carte ben conservate tranne la "Provincia Aprutii", rimarginata; restauri alle cerniere della rilegatura. Memorie della Soc.Geografica, 1895, Vol V, pp. 45-73. Cremonini 28 (1649 Turin edition).