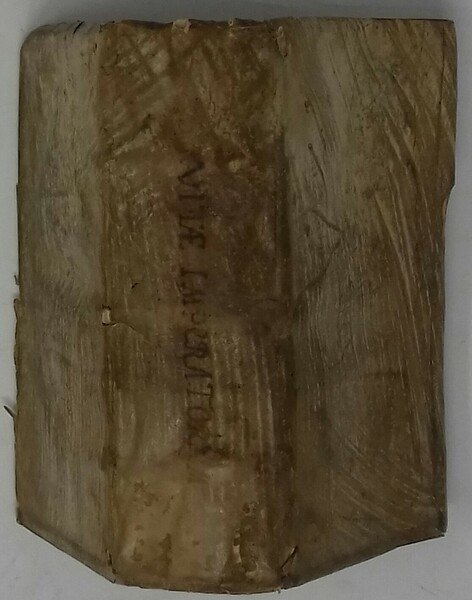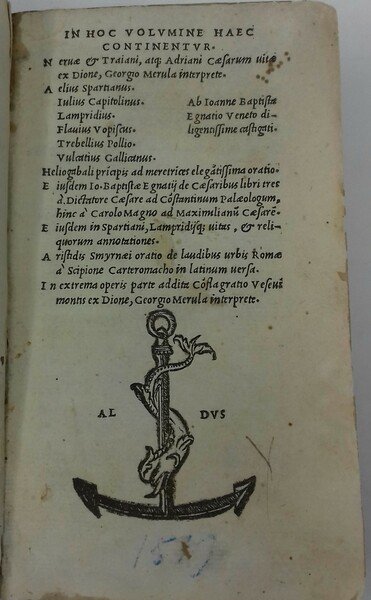 Book
Egnatius, Joannes Baptista.
Nervae et Trainani, atq. Adriani Caesarum vitae ex Dione, Georgio Merula interprete (ed altre opere).
[Aldo], 1519
unavailable
Pregliasco Libreria Antiquaria (Torino, Italy)
Ask for more info
Shipping costs
Standard
4,70€
3-6 business days
Express
8,90€
1-2 business days
Economy-no tracking
2,90€
10-30 business days
Bookshop delivery terms: delivery time is estimated according to the shipping time of the bookshop and the courier. In case of customs detention, delivery delays may occur. Any customs duties are charged to the recipient. For more info.
Payment methods
PayPal

Credit card

Bank transfer
in-8 (160x95), ff. (8), 422, (2), legatura coeva in pergamena floscia, tit. ms. al dorso.Sotto il titolo ('In hoc volumine haec continentur.') àncora aldina, ripetuta al verso dell'ultimo f., testo in car. corsivo, spazi con lettera-guida per le iniziali. Seconda edizione aldina, più ampia e più rara della prima (luglio 1516, ristampata dai Giunta a Firenze nel gennaio 1519) e con la stessa dedica di quella, inviata da Egnazio a Giacomo Minuzio. Celebre e fortunato trattato di storia di Giov. Batt. Cipelli (Venezia 1478-1553), più noto col nome accademico di Battista Egnazio, dottissimo umanista, per lungo tempo collaboratore di Aldo; abbraccia molti secoli, da Giulio Cesare a Massimiliano I d'Asburgo, imperatore tedesco dal 1493 al 1519; ad integrazione vi aggiunse le Vite di Nerva, Traiano ed Adriano di Dione Cassio, tradotte da Giorgio Merula, ed un'edizione corretta degli 'Scriptores Historiae Augustae'. In fine è presente la celebre 'Oratio Heliogabali ad meretrices' di Leonardo Bruni, molto spesso mancante, in quanto 'pièce assez singulière.arrachée par plus d'un lecteur scrupuleux, ou par les familiares de l'Inquisition' (Renouard, 76.4); segue il trattatello 'De laudibus urbis Romae' di Aristide di Smirne, tradotto da Scipione Carteromaco (ff.397-419) e la 'Conflagratio Vesevi Montis' di Dione tradotto dal Merula (ff. 420-422). Esemplare marginoso e genuinocon chiose manoscritte coeve. Non in BMC. Renouard 87.8. UCLA II, 159. Adams S-781.