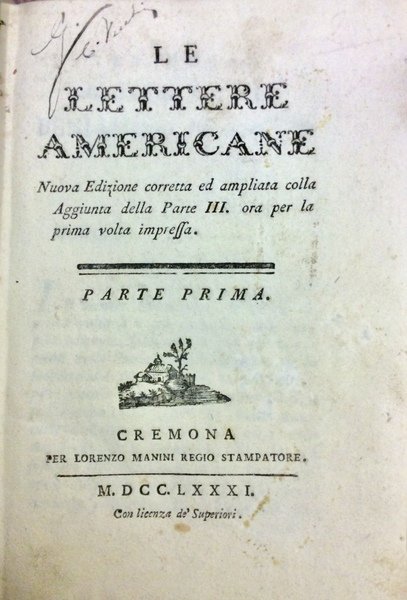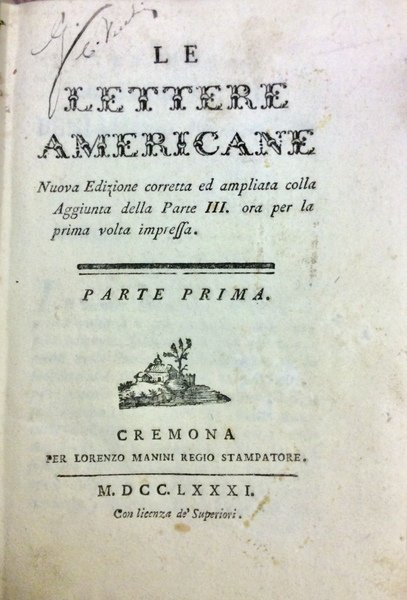 Book
(Carli Gian Rinaldo)
LE LETTERE AMERICANE.
per Lorenzo Manini,, 1781-1783
600.00 €
Malavasi Libreria Antiquaria (Milano, Italy)
Ask for more info
Shipping costs
Standard
4,70€
3-6 business days
Express
8,90€
1-2 business days
Economy-no tracking
2,90€
10-30 business days
Bookshop delivery terms: delivery time is estimated according to the shipping time of the bookshop and the courier. In case of customs detention, delivery delays may occur. Any customs duties are charged to the recipient. For more info.
Payment methods
PayPal

Credit card

Bank transfer
In-16 p. (mm. 168x112), 3 parti in 1 volume, cartonato muto coevo, titolo stampato su etichetta al dorso (restaur.), pp. (8),XXIV,232,(6, manca ultima c.b.); 269,(11). La terza parte "in cui si esamina l'Ipotesi di Mr. Bailly intorno l'"Atlantide di Platone", e quella del Sig. Conte di Buffon per rispetto al successivo raffreddamento del Globo", (1783), è di pp. 213,(3). Manca la carta geografica, più volte ripieg. "Prima edizione completa".Le "Lettere Americane" del Conte Gian Rinaldo Carli in questa nuova impressione portano la dedica a Beniamino Franklin scritta dall'Abate cremonese Isidoro Bianchi (1731-1808) che fu pregato dall'Autore ad assisterne la ristampa. Del Bianchi è pure la lunga Prefazione, apologia di quest'opera contro gli attacchi di Calogero.Cfr. Diz. Biogr. Italiani,XX, p. 165: ". La giustificazione del potere assoluto è uno dei fili conduttori delle 55 "Lettere Americane", indirizzate a Girolamo Gravisi, che Gian Rinaldo Carli (1720-1795) cominciò a stampare nel 1780 (a Cosmopoli, ma Firenze) e che ebbero grande successo, essendo l'argomento di molta attualità. Contro l'olandese Pauw (che chiama Paw) e la sua affermazione dell'inettitudine degli Indiani d'America alla civiltà, il Carli, ritornando al tema a lui caro delle antiche civiltà, difende quella peruviana e vuol provare gli stretti rapporti delle civiltà precolombiane con le mediterranee, ammettendo l'esistenza dell'antica Atlantide. Pieno di ammirazione per i leggendari ordinamenti politici peruviani, vi proietta le proprie convinzioni, ed esalta il dispotismo filantropico giungendo addirittura, con l'illustrare la bontà dell'economia regolata e della sovranità teocratica, a vagheggiare il perfetto comunismo. Nonostante l'eccesso di fantasia, è opera da vero poligrafo per il numero di argomenti; ebbe l'elogio di Beniamino Franklin".Firma di apparten. ms. al primo frontesp.; 11 carte della Parte II restaur. al margine esterno, altrimenti esemplare ben conservato.