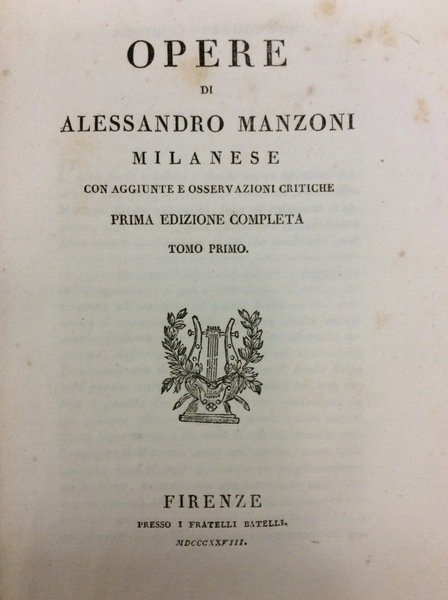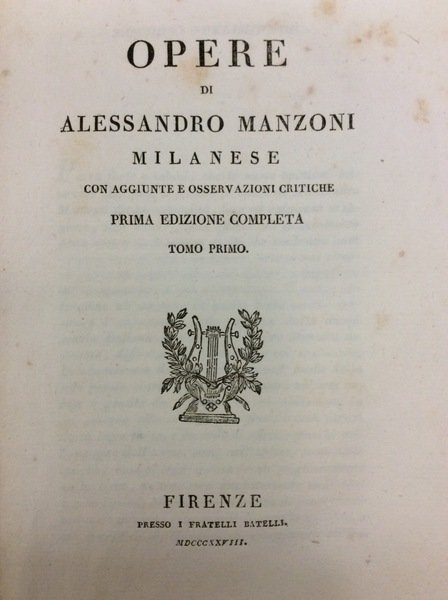 Book
Manzoni Alessandro
OPERE.
presso i Fratelli Batelli,, 1828-1829
1600.00 €
Malavasi Libreria Antiquaria (Milano, Italy)
Closed until June 4, 2023.
Shipping costs
Standard
4,70€
3-6 business days
Express
8,90€
1-2 business days
Economy-no tracking
2,90€
10-30 business days
Bookshop delivery terms: delivery time is estimated according to the shipping time of the bookshop and the courier. In case of customs detention, delivery delays may occur. Any customs duties are charged to the recipient. For more info.
Payment methods
PayPal

Credit card

Bank transfer
In-8 p. (mm. 215x148), 6 tomi, brossura orig. (con restauri; piccola manc. al piatto poster. di un vol.), pp. LI,245 (ma 249 perchè sono ripetute le pp. 205/208), 1 c.nn. (indice e errata); 312 (ma 318 per la ripetizione delle pp. 205/210), 2 cc.nn.; 382; 287; 296; 336; con 6 belle vignette in tavole incise in rame f.t. negli ultimi tre tomi, ad illustrare "I Promessi Sposi", terza edizione di questa tipografia.Il 1° tomo contiene: Il Discorso preliminare di N. Tommaseo; Il Conte di Carmagnola con il giudizio di Goethe (tradotto in francese dal Fauriel); la lettera di Manzoni al Goethe e vari altri studi fra cui la "Lettre sur l'unité de temps et de lieu dans la tragédie" - Nel 2° tomo: l'Adelchi, il discorso sopra alcuni punti della storia longobardica in Italia; Le osservazioni intorno al giudizio di Goethe sull'Adelchi; Osservazioni di G. Montani intorno all'Adelchi e i Pensieri di Camillo Ugoni sulle tragedie di Alessandro Manzoni - Nel 3° tomo: le Poesie e vari studi sulla poetica del Manzoni; le Osservazioni sulla Morale Cattolica - I tomi 4°-5°-6° comprendono il Romanzo. 'Prima edizione' collettiva delle Opere, a cura di Niccolò Tommaseo (per i primi 3 tomi), completa delle 6 tavole, per lo più mancanti e generalmente non citate dai bibliografi (come precisa Hoepli,211).Cfr. Parenti "Bibl. manzoniana", n. 1 - Giujusa "Bibl. critica. de I Promessi Sposi", I, n. 21 in Nota: "'edizione ritenuta rarissima', costituita dagli ultimi tre voll. di un'omnia manzoniana in 6 voll. della stessa Casa (prima ediz. completa delle 'Opere' del M.).Con lievi fiorit. e arross. nei primi due tomi, altrimenti esemplare marginoso con barbe, ben conservato, contenuto in un astuccio.