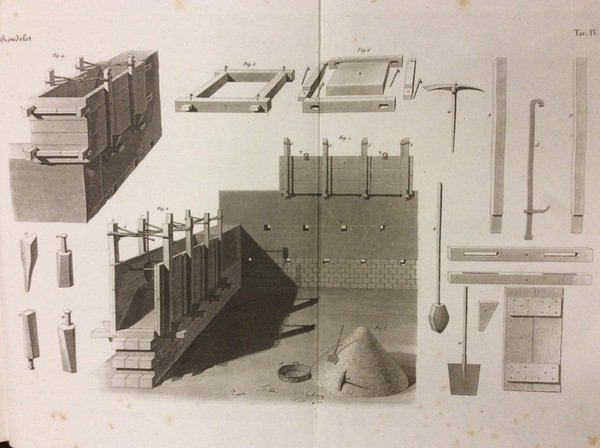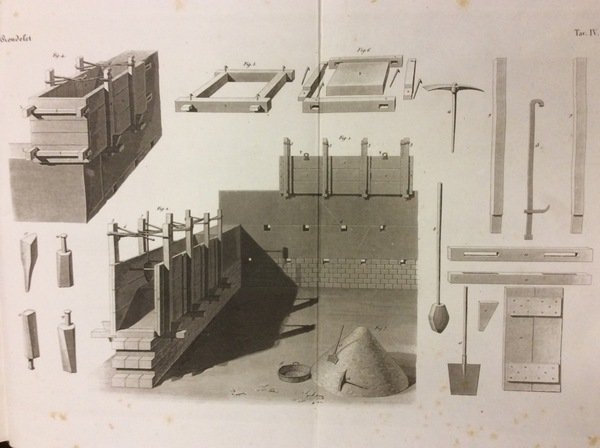 Book
Rondelet Giovanni
TRATTATO TEORICO E PRATICO DELL'ARTE DI EDIFICARE.
coi tipi di Caranenti,, 1832-1840
1800.00 €
Malavasi Libreria Antiquaria (Milano, Italy)
Ask for more info
Shipping costs
Standard
4,70€
3-6 business days
Express
8,90€
1-2 business days
Economy-no tracking
2,90€
10-30 business days
Bookshop delivery terms: delivery time is estimated according to the shipping time of the bookshop and the courier. In case of customs detention, delivery delays may occur. Any customs duties are charged to the recipient. For more info.
Payment methods
PayPal

Credit card

Bank transfer
In-4 p. (mm. 310x230), 5 volumi (in 7 tomi) + 1 dedicato alle sue "Opere", mz. pelle coeva, fregi e titolo oro al dorso. L'importante trattato dell'"Arte di edificare", diviso in dieci libri che affrontano pressochè tutti gli aspetti della tecnica edilizia, è illustrato da complessive "234 tavole inc. in rame", cosi' composte: 211 numer. da I a CCVII con 4 "bis" + 23 contrassegnate dalla lettera A alla Y, dettagliatamente descritte.<br>L'opera, molto accurata, analizza approfonditamente: I materiali edili in tutti i loro aspetti e comportamenti nelle differenti condizioni di impiego - La stereotomia (con cenni storici sull'utilizzo delle pietre da taglio) - Le tecniche murarie - L'impiego del legname (sia come elemento portante della costruzione che decorativo per le rifiniture interne ed esterne) - Le costruzioni in ferro (con una interessante sezione dedicata ai ponti in ferro a vista) - I diversi metodi di copertura degli edifici e la teoria delle costruzioni.Cfr. Cicognara,634 che cita l'ediz. francese: "Opera assai ben concepita ed eseguita, con vastità di cognizioni in ognuno dei rami relativi all'Architettura. è forse la più ampia che abbracci tutte le utili pratiche per l'arte edificatoria" - Brunet,IV,1373: "La première édition de cet ouvrage capital a été publiée à Paris de 1802 à 1817". Il VI volume (mm. 302x202), con legat. diversa, porta il titolo: "Opere", con note e giunte importantissime, Mantova, Fratelli Negretti, 1840, pp. 251. Vi sono contenute: "Memoria su la Marineria degli antichi e sui Navigli a parecchi ordini di remi - Descrizione dei principali acquidotti. In Appendice al Commentario di S. Frontino su gli Acquidotti di Roma - Leggi o costituzioni imperiali intorno agli Acquidotti, tanto dell'antica Roma quanto della nuova cioè di Costantinopoli": "mancano le relative 29 tavole" - Saggio storico sul Ponte di Rialto in Venezia: con 1 tav. in tinta che lo raffigura". Con qualche lieve fiorit., altrimenti esemplare con barbe, ben conservato.