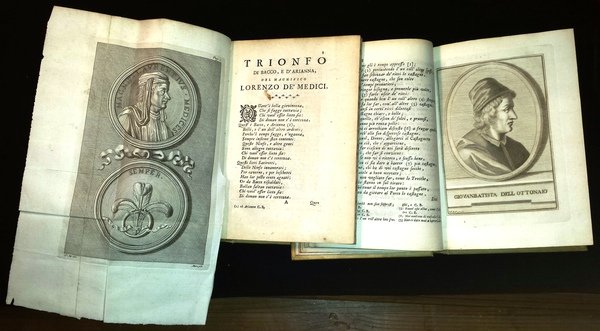 Book
Nullo
Tutti i trionfi carri, mascherate o canti carnascialeschi andati per Firenze dal tempo del Magnifico Lorenzo de' Medici fino all'anno 1559. (Parte prima-seconda). In questa seconda edizione corretti, con diversi mss. collazionati, delle loro varie lezioni arricchiti, notabilmente accresciuti, e co' ritratti di ciascun poeta adornati.
Cosmopoli (invece Lucca), 1750,
1700.00 €
Emiliana Libreria (Venezia, Italy)
Ask for more info
Shipping costs
Standard
4,70€
3-6 business days
Express
8,90€
1-2 business days
Economy-no tracking
2,90€
10-30 business days
Bookshop delivery terms: delivery time is estimated according to the shipping time of the bookshop and the courier. In case of customs detention, delivery delays may occur. Any customs duties are charged to the recipient. For more info.
Payment methods
PayPal

Credit card

Bank transfer
In-8 (21 cm) 2 voll. (1) c. (di tavola in antiporta) LX (36) c. (di ritratto) 256 (2); (1) c. (di tavola in antiporta) (2) 259-594 (2) (7) c. (di ritratto). Piena pergamena coeva. Tagli spruzzati di rosso. Perfetto. Raccolta fatta da Anton Francesco Grazzini detto il Lasca. Edizione a cura di Rinaldo Bracci, sotto lo pseudonimo di Neri del Boccia: cfr. Melzi, Diz. op. anon. e pseud., v. 2, p. 227. Stampato a Lucca da Benedini: cfr. M. Parenti, Diz. dei luoghi di stampa, p. 64. Edizione divisa in 2 pt., entrambe precedute da front. generale calcogr. e da occhietto particolare. Lasca: Grazzini, Anton Francesco (1503-1583). Commediografo, poeta e novelliere, speziale, nato e morto a Firenze; era noto con lo pseudonimo di Lasca, nome che mantenne nell'Accademia degli Umidi, della quale fu uno degli undici fondatori nel 1540 e più tardi anche nell'Accademia della Crusca.