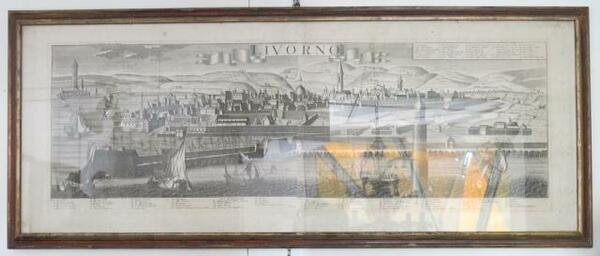 Print
PROBST, G. BALTHASAR – WERNER, FREDERICH.
Livorno.
1950.00 €
Botteghina D'arte Galleria Kúpros Studio Bibliografico (Rosignano Solvay, Italy)
Ask for more info
Shipping costs
Standard
4,70€
3-6 business days
Express
8,90€
1-2 business days
Economy-no tracking
2,90€
10-30 business days
Bookshop delivery terms: delivery time is estimated according to the shipping time of the bookshop and the courier. In case of customs detention, delivery delays may occur. Any customs duties are charged to the recipient. For more info.
Payment methods
PayPal

Credit card

Bank transfer
1750 circa. Incisione in rame all'acquaforte e bulino, b/n, cm 37 x 105 circa (alla lastra) più margini. In lastra, in basso a sinistra, "F. B. Werner delin.", in basso a destra "G. Balthasar Probst. Haeraes Ieremiae Wolffy excud. Aug. Vind." Incisione realizzata su due lastre e stampata su due fogli uniti impressi su carta vergata, cartiglio in alto al centro, entro svolazzo, legenda principale al margine inferiore con 28 toponimi in italiano e latino, una più piccola legenda in piccolo riquadro al margine superiore, sempre con 28 toponimi e in tedesco; in entrambe si riporta il riferimento ai principali luoghi storici e sacri della città. Sulla sinistra del foglio, in lontananza, si distingue la Torre del Marzocco. L'incisione fa parte di una serie di vedute prospettiche realizzate dal Probst e caratterizzate da un senso prospettico di indubbio valore. Per quanto riguarda il nostro esemplare si tratta della terza variante: la prima variante (stampata fra il 1740 e il 1749 circa) non ha lo scudo in alto a sinistra e riporta 27 topinimi in legenda; la seconda ha lo scudo con croce rossa su campo bianco (variante di quella pisana dell'ordine di Santo Stefano) e 28 toponimi; questa terza non ha lo scudo, come la prima, e 28 toponimi. Questa veduta, di poco più grande delle precedenti, presenta anche un titolo più grande e differisce da esse sia per quanto riguardo il panorama urbano, sia per le barche e navi nel mare antistante. Tutte le tre le varianti sono rare (Bibliogr. Piero Frati, "Livorno nelle antiche stampe", p. 72). Tutte e tre le versioni sono rare e molto belle. Foxing marginale ma buon esemplare, ben impresso e in margini (il prezzo della stampa si intende per spedizioni senza vetro e senza cornice. Nel caso la stampa interessasse completa di vetro e cornice vi preghiamo di contattarci direttamente e vi saranno comunicati modalità e prezzo).